Latest news
Contact us
ADD: Tai Cheng Road ,WeiBin Bistrict,Baoji City,ShaanXi Province,China Zip code :721013
TEL: 8613909176258
FAX: 869173809973
E-mail: sales@fitowmetal.com

> sintered Stainless Steel Filter Cartridge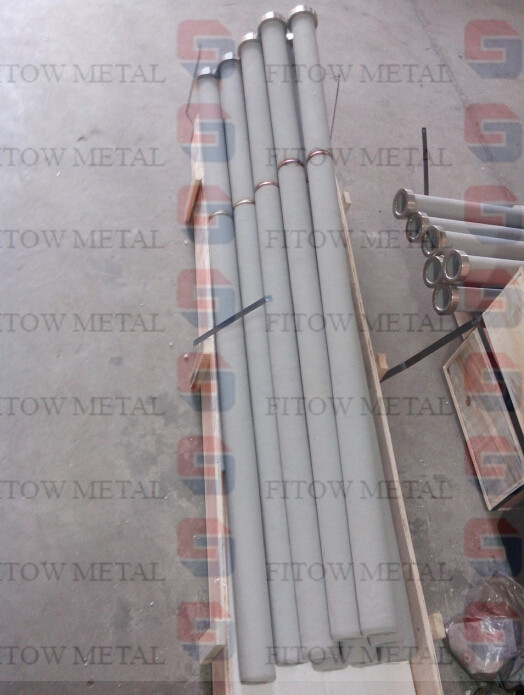 Stainless steel powder sintering filter Ф 65 x 1​500 with End cover two buttom welding
Microporous metal filter pipe
Ф 65 x 1​500
FILTERING PRECISION: 0.45μm - 120μm
COMPRESSIVE STRENGTH: 0.5-1.5MPa
Product description: Stainless Steel Powder Sintered Filter ,Powder Stainless Steel Sintered Filter for Water Filter ,316L Stainless steel sintered metal powder disc filter ,0.5um Sintered Powder Filter ,SS Powder Sintere
Product introduction
Stainless steel powder sintering filter Ф 65 x 1500 with End cover two buttom welding
stainless steel powder sintered filter is manufactured by Isocratic Pressing, Can be welded, adhered and machined.
1. The pore size can be adjusted by suitable selection of the powder size fraction and the process parameters.
2. Shape and size: Powder sintered filter is made by quality metal powder and have excellent performance of gas filteration. All shapes and size are available and can make according the customer's requirement
3. Available materials are: bronze powder, stainless steel 316/316L, 304/304L, 310, Titanium, Inconel, Hastelloy, Nickel, Monel and other alloys .etc. on request.
4. Sintered Filter features:
1. High porosity rate, accurate filtration rating and excellent separation
2. Regenerative, long life span
3. Filtration rating: 5 - 250micro
5. Using: The filter has been widely used in transfomer oil, turbine oil, hydraulic oil, aviation kerosene, petrolum, chemical, power plant, coal carbon, mining, pharmaceutical, food and engineering industries. Mainly used in lubricating oil, fuel oil and hydraulic and air pressure systems. The sintered stainless steel filter is installed in pipeline of hydraulic pressure system, to remove metal powders and mechanical impurities from hydraulic system caused by machine parts abrasion, to keep oils cleanness. It is an ideal filter element in petroleum, chemical and synthetic fiber industries
6. Product Characteristics
1. Complex structure, high filtering precision
2. Large dirt holding capacity, long service life time
3. Good corrosion resistance and pressure resistance
4. Increased flow quantity per unit area
5. woven type stainless steel mesh, with homogeneous pore distribution, high strength, and easy to clean.
7. Main Application
1. Gas and liquid filtration
2. Solid catalyst recovery
3. Filtration of slurry oil and other petrochemical products
4 .High-temperature gas filtration
5. Fluidization
6. Powder conveying
7. Sparging and other applications in various industrial fields.
iltering Level

Filtration Precision

um

Maximum Hole Diameter um

Permeability Coefficient 10-12m2

Permeability

m3/h.m2.kpa

Thickness

mm

Compression Strength

Mpa/cm2

Bubbling Pressure

Kpa

S9

0.2

2.5

1

0.6-10

3.0

S8

0.5

4

3

0.6-10

3.0

S7

1.5

6

5

0.6-10

3.0

S6

2.5

10

0.09

10

0.6-10

3.0

9.16

S5

5

15

0.23

40

0.6-10

3.0

6.1

8

20

0.91

80

0.6-10

3.0

4.6

S4

10

30

1.81

160

0.6-10

3.0

2.6

S3

28

60

3.82

350

0.6-10

3.0

1.8

35

80

7.29

500

0.6-10

3.0

1.4

S2

40

100

9.43

700

0.6-10

3.0

1.1

S1

65

160

15.1

1000

0.6-10

3.0

0.66