Latest news
Contact us
ADD: Tai Cheng Road ,WeiBin Bistrict,Baoji City,ShaanXi Province,China Zip code :721013
TEL: 8613909176258
FAX: 869173809973
E-mail: sales@fitowmetal.com

> powder sintered metal filter disc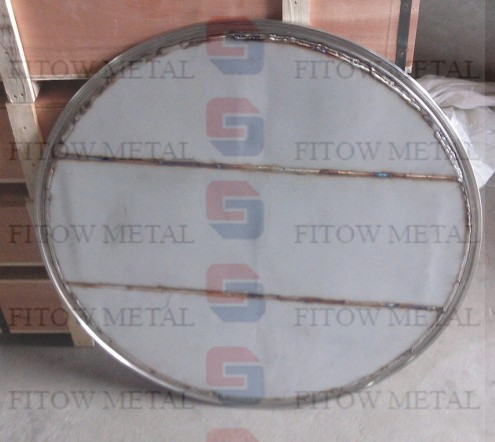 Stainless steel powder filters discs Φ832×8mm
Microporous metal filter pipe
Φ832×8
Filtering precision:0.2-50um
COMPRESSIVE STRENGTH: 0.5-1.5MPa
Product description: sintered metal powder filter(factory) ,Sintered Metal Powder Disc Filter , Powder Microporous Sintered Titanium Filter Disc for Medical Chemical ,powder sintered metal filter disc ,Stainless Steel Si
Product introduction
high temperature and pressure resistant
Cartridges can work under extreme
high temperature and pressure conditions.
Wide chemical compatibility
Cartridges can resist to strong acid, alkaline
and Ozone Oxidation.
Long life
Cartridges can be backwashable and cleaned
by chemical solvent, hot water,steam
Materials
Filter Media:Titanium powder Sintered
SUS316 powder Sintered
SUS316 mesh pleated
Cartridge Dimensions (Nominal)
Outer Diameter: 60mm/80mm
Length: 10"-250mm
Length: 20"- 500mm 30"-750 mm
40"- 1000mm
*(Length is based on Cut ends)
Nominal Micron
TI: 0.45um, 1um, 5um, 10um, 20um, 50um
STS: 1um, 5um, 10um, 20um, 50um
STP: 1um, 5um, 10um, 20um, 50um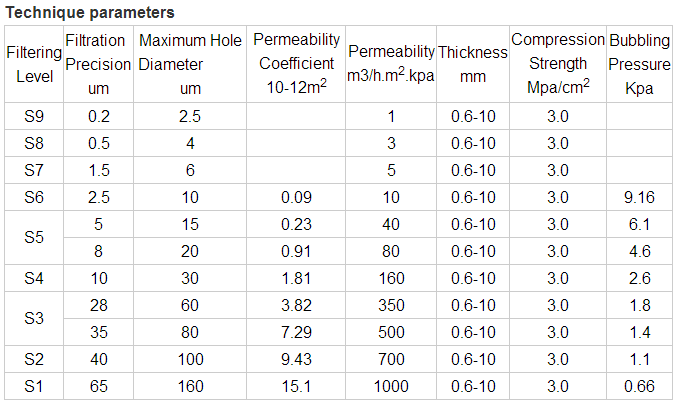 Typical Applications
Suitable for the extreme operating enviroments, steam filtration.
Pharmaceuticals:Prefiltraion and decarbonate filtration.
Food & Beverages:Viscous liquid with high temperature.
Fine Chemicals: Strong Acid and Alkaline filtration.
Water:Filtrate the O-zone containing water.
Cartridge Cleaning Methods
* Pharmaceutical, Food & Beverage industries:
Hot water flush; Steam clean; Water Backwash
Brush clean; Compress air blow.
* Chemical Industry:
Chemical Solvent clean; Ultrasonic cleaning
High pressure water spray rinsing; Acid dipping.