Latest news
Contact us
ADD: Tai Cheng Road ,WeiBin Bistrict,Baoji City,ShaanXi Province,China Zip code :721013
TEL: 8613909176258
FAX: 869173809973
E-mail: sales@fitowmetal.com

> Powder Sintered Stainless steel Porous Filter Element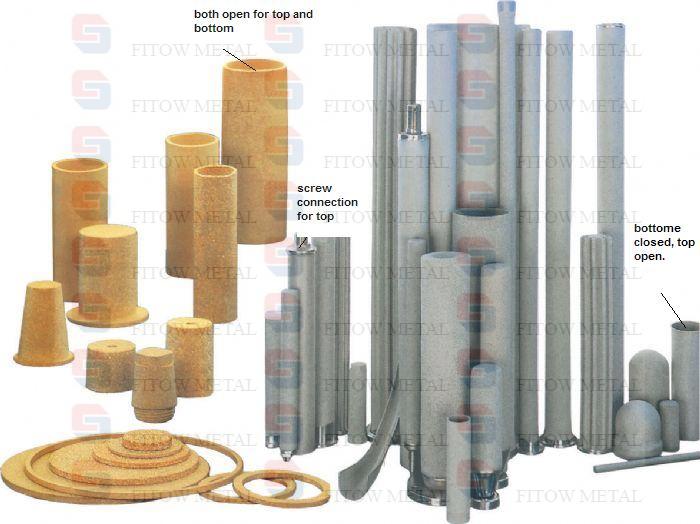 Powder Sintered Stainless steel Porous Filter Element
Microporous metal filter element
Filtering precision:28%-50%
FILTERING PRECISION: 0.45μm - 120μm
COMPRESSIVE STRENGTH: 0.5-1.5MPa
Product description: sintered powder filter elements,Porous Powder Sintering Bronze Filter Elements ,5um powder sintering filter elements of SS316L ,Stainless Steel powder sintered filter elements Manufacturer ,sintered f
Product introduction
stainless Steel Sintered Powder Filter Elements
Brief Introduction
1.Overcome the temperature and compatibility limitations of fabric or synthetic fiber cartridges by replacing them with these stainless steel wire cloth elements. They are good up to 500?F instead of the usual 250?F, and they are unaffected by most caustic fluids.
2.Made entirely of 304 or 316 stainless steel, they are cleanable and reusable, and can withstand differential pressures up to 60 psi. (500 psid units are also available.) You can choose particle retention ratings as fine as 5 microns.
3.Element surfaces can be plain cylindrical, or pleated to increase surface area. Pleated units rated 100 microns or finer have an underlying support layer of coarser mesh to prevent pleat collapse. Fabrication is by welding and crimping; no silver brazing or epoxy bonding is used
Type Of Filters
Stainless steel wire mesh type
Stainless steel sintered metal type
Stainless steel random fiber / Sintered metal fiber type
Type Of Filter Design
Plain cylindrical design
Pleated configuration design
Feature&Benefits
Stable pore shapes
High permeability
Low pressure drop
High dirt-holding capacity (longer lifetime)
High temperature resistance
High differential pressure with stand capacity
Strong corrosion resistant
Back flushing
Excellent mechanical strength
No media migration
Size customization
Filter Shape:
Could be cartridge filters,disc filters ,cup filters,cap filters,filter palte and etc
Application:
separation and purification of solid-liquid, gas-liquid and gas-solid in the petrifaction, hydraulic manufacturing and medical apparatus and instruments of basic industries.
Technique parameters
Filtering Level

Filtration Precision

um

Maximum Hole Diameter um

Permeability Coefficient 10-12m2

Permeability

m3/h.m2.kpa

Thickness

mm

Compression Strength

Mpa/cm2

Bubbling Pressure

Kpa

S9

0.2

2.5

1

0.6-10

3.0

S8

0.5

4

3

0.6-10

3.0

S7

1.5

6

5

0.6-10

3.0

S6

2.5

10

0.09

10

0.6-10

3.0

9.16

S5

5

15

0.23

40

0.6-10

3.0

6.1

8

20

0.91

80

0.6-10

3.0

4.6

S4

10

30

1.81

160

0.6-10

3.0

2.6

S3

28

60

3.82

350

0.6-10

3.0

1.8

35

80

7.29

500

0.6-10

3.0

1.4

S2

40

100

9.43

700

0.6-10

3.0

1.1

S1

65

160

15.1

1000

0.6-10

3.0

0.66